Audi Service Brisbane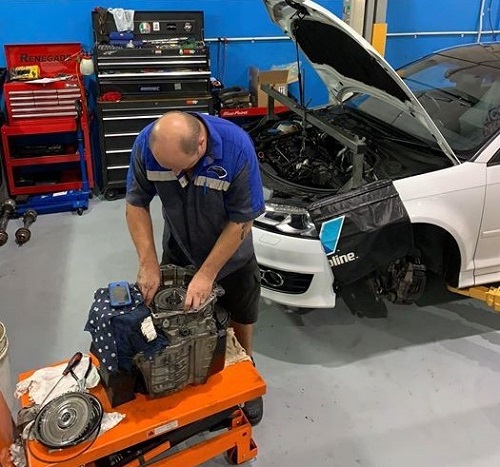 If you live in the Redlands or bayside areas of Brisbane, Euro-Aus Automotive is your local mechanic specialising in Audi service, repairs and upgrades.
From the race track to the road, Audi has a long and proud history dating back over a hundred years – but don't be fooled! They are a car for the modern age, as evidenced by their motto: "Advancement through technology".
Just as an example: Audi were the first to introduce a permanent all-wheel drive for everyday vehicles back in the 1980's. Today, that innovative spirit is still going strong with Audi's experiments with the E-tron electric model.
With its unique combination of sportiness and style, Audi is considered one of the Big 3 in luxury European vehicles (along with BMW and Mercedes).
However once the free service period on your Audi has expired, many owners are shocked by dealership prices.
Taking your Audi to any old mechanic can also be risky. Today's Audi is packed with complex software – so ideally, you want a mechanic with expert knowledge in Audi technology and systems, as well as the specific tools required for servicing, diagnosing and repairing your beloved Audi.
Audi Service Brisbane
The good news is that there IS an alternative to having to pay exorbitant dealership prices!
At EuroAus we are the European vehicle specialists, trained in all things Audi. We have invested in the latest state-of-the-art equipment and use only quality parts to ensure your Audi receives the tender loving care it deserves.
No longer do you have to put up with the inconvenience of driving into busy Brisbane - as we also provide log book servicing which won't void your warranty!
We pride ourselves on superior service, honest and genuine advice, and attention to detail - and if you read our testimonials, you'll see that our customers agree.
From the provision of loan cars, a complementary car wash and valet clean with every Audi service, and the Freddo frog attached to your paid invoice - we aim to make every aspect of your customer experience, exceptional.
Call us today on 3823 2882 for a competitive quote on your next Audi service.
Audi Service and Repairs
6 and 7 Speed DSG Clutch and Mechatronic Unit Replacement / Repair - Door Locks - Tyres, Alignment and Balancing - Batteries - Air Conditioning - Brakes and Suspension - ECU Remapping and Sensor Replacements - Starter Motors and Alternators